Stewardship as Discipleship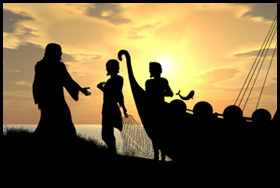 This past Sunday my pastor invited me to fill in teaching the message at our church as he was just returning from vacation. It is an honor for me to do so, and I was greatly humbled to be teaching God's Word.
He and I have been working on an overall stewardship teaching series that is not solely focused on money or taught right before an offering or campaign. At an annual meeting during the recent economic slowdown many people in the church asked for more teaching on stewardship. So we have been working on this over the past 8 months.
The first message we co-taught and we defined stewardship. We gave updated definitions on stewardship, generosity, and New Testament views from 2 Corinthians 8 and 9. The second message I went beyond money to define stewardship as a lifestyle. I then expanded the definition to look at stewardship of time, talent, relationships, creation, and even our bodies.
The third message I shared recently I looked at Stewardship as Discipleship.
To start I asked what is a disciple?
The dictionary gave me -
      1. A follower of a person or idea;
      2. An original follower of Jesus Christ.
This is what struck me - ORIGINAL follower of Jesus was called a disciple. What was their world like? They did not have an organized church, building, denomination, or seminaries. They did not have 15 versions of the Bible, nor the internet. How did they do it???
I think John 15:8 gives us a glimpse: "This is to my Father's glory, that you bear much fruit, showing yourselves to be my disciples."
They worked at it! They gathered together, prayed, took care of the needs of others. They were disciples as they sought to bear fruit. So where does being a steward come into this?
I found this in Wikipedia. I was amazed that a secular source of information would have quite a biblically-correct definition.
What is a steward?
Dictionary - Stewardship is a principle taught in Christianity and stemming from the belief that God is the ultimate owner of everything and one is accountable to God for the care and use of those possessions. Christianity emphasizes stewardship as a form of worship, and further, in Christianity one is encouraged to approach financial decisions from the perspective that one is a humble steward of God's possessions, not the outright owner. Stewardship can also refer to Jesus Christ's accountability to God the Father for the Christians that have been entrusted to Him, and the metaphor of a shepherd watching over, but not owning, a flock is often used in Christian teachings.
There are some very key points in this definition. Did you notice form of worship, humble steward, not the outright owner, etc.? I thought this was a very comprehensive definition.
As we look at the steward in Scripture we see the following two key verses. Both of which give us clear guidance that God sees the steward as a very important part of His plan for His church and His disciples.
1 Corinthians 4:2 - Now it is required that those who have been given a trust must prove faithful.
2 Corinthians 7:7 - But just as you excel in everything - in faith, in speech, in knowledge, in complete earnestness and in your love for us see that you also excel in this grace of giving.
The Disciple as a Steward.
The integration of the two is how a disciple becomes a steward as part of his/her following God. It is a holistic view of life that looks at bearing fruit as a call to be a good steward in order to be a disciple. Living and abiding with God is a daily process of surrender in order to walk with God.
Generosity on behalf of the Owner, whether it be money, time, talent, relationships, or other areas, is pleasing to Him and a way of bearing fruit. I believe there will be a day when every disciple will give an account of their stewardship (their fruit) to the Owner. And we do hope to hear: well done good and faithful servant/steward.
I hope this idea of Stewardship as Discipleship resonates with you. Let me hear your thoughts and ideas as you ponder this concept.
Blessings.

Dr. John R. Frank, CFRE, CSP