Journey of the Steward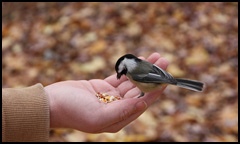 Acts 20:35 In everything I did, I showed you that by this kind of hard work we must help the weak, remembering the words the Lord Jesus himself said: It is more blessed to give than to receive.
We have all heard this famous quote used many times, sometimes even to children when a parent is encouraging them to share or be generous when they do not really want to. But as we are challenged to go deeper in the Word of God not as spiritual infants, but as mature adults, I thought I would take a closer look at this verse.
The writer of Acts is quoting Paul's farewell to the Ephesians. As it is written we can see this is a time of history when Jesus' actual words were remembered and quoted accurately. It is an exhortation to the leaders of the church to work hard, help the weak, and remember what Jesus said to them.
It is more blessed to give than to receive is a teaching from Jesus that forms the basis for our stewardship beliefs. It is the key to transformational stewardship versus transactional giving.
It is more blessed is really the result or impact of being generous, of being a giver. When we are generous and take care of the weak, we will be blessed. In God's view of the world, his followers are to be generous (2 Corinthians 8:7). And he is watching how generous we are and will bless us for it (Philippians 4:17). To be blessed is a part of being transformed. A blessing is important to a Christian. It is something that only someone who believes in the power and grace of an all-knowing God can understand.
Than to receive There is no shame in being the recipient of generosity. That is not the point of this part of the message. Those in need are supposed to bring their need to the body of Christ, the church (Acts 4:32). The real point of this half of the statement from Jesus is a challenge to be a giver rather than one who is looking to receive. The giver is of high regard in God's Kingdom work. The generous follower of Jesus is one who looks for ways to be a giver knowing that this not only pleases God, but also transforms the giver into being and thinking more like Jesus.
As we work with our donors/stewards, it is important for us to remember that THEY will be blessed as they are generous. While we do want gifts for our ministries and organizations, the real spiritual blessing goes to the giver.
Is this a gimmick? Is this a manipulation of scripture? I do not think so. Everywhere I look in scripture, both Old and New Testament verifies this teaching. The blessing in giving goes to the giver. God is more concerned with the JOURNEY OF THE STEWARD, than he is with our budgets and goals.
That may be a hard one for the passionate Executive Director of Director of Development, but it is true. God can provide for your ministry at any time and with any gift of provision. But he chooses to do it through HIS PEOPLE. The journey of the steward is His priority, and so it should be ours.
It is more blessed to give than to receive. Our Lord Jesus spoke these words when he walked the earth. Now he gives us these words in scripture to believe and use every day. Use these words to encourage and challenge your donor/stewards. They are filled with truth. They are not your words to raise funds or make a donor feel better. They are God's words to guide us to be generous givers.
In the ministry of development, guide your stewards on their journeys with these encouraging words.
It is more blessed to give than to receive.
Dr. John R. Frank, CFRE, CSP